BUZZ
Webinar
9am-12pm, 16 March
$70.00
COURSE INSTRUCTOR:
Yolanda Soryl
DURATION:
3 hours
TIME:
9am to 12pm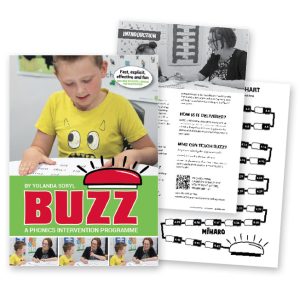 COURSE DETAILS
The BUZZ programme is a 5 minute daily one on one motivating and success-oriented programme for students who require more practice and extra opportunities for learning in phonics at stages 1-4. Our BUZZ course provides explicit training in how to effectively deliver the programme for those either delivering or overseeing it in school.
This training course covers:
• how to teach the BUZZ programme
• implementing the programme
Price includes GST.
MATERIALS: Includes course handout PDF but does not include the BUZZ manual. This is not required for the course but please note that you will need to purchase it if you want to teach the programme afterwards and do not already have a copy.
SPECIAL GROUP DISCOUNT OFFER
Book 6 places, pay for 5

(save $70)

or book 12 places and pay for 10

(save $140)
PLEASE NOTE to qualify for this discount, you must order all 6 or 12 places in one order. Ordering say, 4 places and then 2 more in another order later does not qualify.
50 placements available
Frequently ordered together...