PHONOLOGICAL AWARENESS Epsom/Auckland 6pm-9pm, 13 October
$100.00
COURSE INSTRUCTOR:
Yolanda Soryl
DURATION:
3 hours
TIME:
6pm-9pm
Our Developing Phonological Awareness (DPA) course is aimed at teachers working with children aged 0-5 or older children who require additional support at the earliest level of literacy development.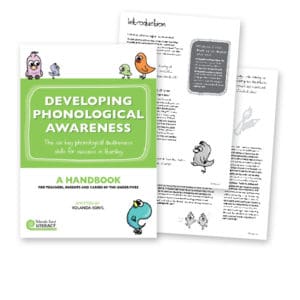 COURSE DETAILS
This training course covers:
• basic theory
• an overview of the seven stages of phonics
• in depth coverage of Stage 1
• lesson plans
• assessment
• resources
Includes the 44-page Developing Phonological Awareness Handbook. Price includes GST.
SPECIAL GROUP DISCOUNT OFFER
Book 6 places, pay for 5

(save $100)

or book 12 places and pay for 10

(save $200)
PLEASE NOTE to qualify for this discount, you must order all 6 or 12 places in one order. Ordering say, 4 places and then 2 more in another order later does not qualify.
50 placements available