EARLY WORDS Webinar (after school) 3:30pm-5:30pm, 16 & 17 Aug
$70.00
COURSE INSTRUCTOR:
Yolanda Soryl
DURATION:
4 hours (held over two consecutive days)
TIME:
3:30pm – 5:30pm
COURSE DETAILS
Join Yolanda for her online Early Words training webinar, ideal for anyone working with children at the very beginning stages of reading and using the Early Words programme. Parents and non-teachers are always welcome.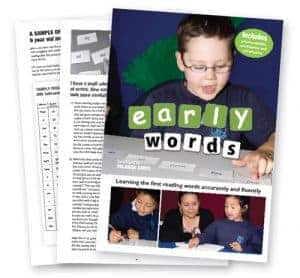 This training course covers:
• theory about learning sight words
• how to teach the Early Words programme
• implementing the programme
Price includes the training handout PDFs but participants will need to purchase the Early Words manual separately if they wish to teach the programme. Price includes GST.
SPECIAL GROUP DISCOUNT OFFER
Book 6 places, pay for 5

(save $70)

or book 12 places and pay for 10

(save $140)
PLEASE NOTE to qualify for this discount, you must order all 6 or 12 places in one order. Ordering say, 4 places and then 2 more in another order later does not qualify.
50 placements available
Frequently ordered together...