Earlier in the term I began using your Early Words programme with one of our Year 1 children, who had no known words when tested at the beginning of this year. She was making very, very slow progress. An extremely timid, quiet Pacifica girl, who a few months down the track has blossomed into a confident and extremely proud young lady, who could give any adult a run for their money when it comes to speed reading all 48 words in Early Words. What a difference your programme has made to her whole being – on so many levels! It will be a very proud moment tomorrow when she gets up on the stage at Assembly to receive her certificate. And on another positive note….. she's super excited to begin Early Words 2 next term!!! I can't thank you enough.
Lisa Wisler, Katikati School
We are finding the programme very effective especially for the children that are struggling in a normal reading programme. I am doing an intense literacy morning based around the early words and am seeing great results.
Jacqui Brabyn, NE teacher, 
Pahiatua School
I began your Early Words with one of my struggling lads in my N.E class. It has completely changed our relationship. He was not that interested in learning initially – he had a really bad attitude, very grumpy, not keen to focus or try to read, on a downward spiral no matter what I tried before. Yet following a week on Early Words every day at 0830 with special sparkly space stickers and a promise of 'Cars' as the next sticker sheet, he is a changed boy. He is enthusiastic about the words he can read, has had his first certificate for 6 words and even enjoys doing his homework. I am certain he is a changed learner because of the programme.
Melanie Savill, NE teacher, 
Birchwood School
I am a big fan of the Early Words programme and have found it to be very successful in our school.
Samantha Pelham, Ouruhia School
Please would you pass on to Yolanda how valuable I am finding the Early Words programme. I have put it into a couple of schools I am working in and they are very excited about the progress that is being made with some of their 'hard to move' students. The students are enjoying it also and love working with the T/A on the programme.
Janene Huggard, RTLB – Western Districts
I am a teacher of children with delayed language, and have found the Early Words system invaluable. It provides a systematic, straight-forward method of learning essential words with lots of repetition in different forms. My pupils who participate in the programme love the feeling of success in reading they get. Their smiles say it all! I don't see my children on a daily basis, so progress is perhaps slower than it could be, however they are all making progress and I can go as fast or as slowly as necessary, spending a lot of time doing repeat lessons with some, skipping through with others. I am able to use the system to suit the individual needs of each student. I highly recommend the Early Words course to all teachers of early literacy….in fact have said so to many teachers since doing the course!
Susan Skarsholt, Resource Teacher of Deaf Children, Auckland
Just to let you know that I am seeing some amazing results using the Early Words programme. When I suggested to one boy that he could go to reading group, his little mouth dropped and he said that he wanted to keep doing this. His Early Words programme is done out of school time, with me. Not only have I seen the results with his reading, but his attitude in the classroom has changed. I believe that the 5 minutes per day one to one with him has built a relationship of trust and therefore has had great impact on all his learning.
Robyn Sibtsen, St Mary's School
Thanks so much Yolanda. Once again another fantastic course run by you. I am using Early Words with a little boy in my room who I have struggled with all year and now both him and I are seeing success in just two weeks. Wow! It really does work! Looking forward to getting the rest of my team onboard next year.
Jane Scotland, Deputy Principal, Mt Pleasant School
I am a NE teacher and attended the phonics training last year. It has been invaluable and am now seeing the fruits through particularly story writing. It was at this course that Yolanda informed us of an early words programme that had been devised. I had been waiting patiently and recently bought this myself to implement it. With no training in this as yet, I have the programme up and running successfully thanks to the fantastic easy to use manual and DVD. I am completely astounded how quickly our new additions to the room are picking up those ever so important early words. It is fun to teach as well as fun for the children to learn and complete at home as well. Parents are even seeing how beneficial it is and giving feedback as to how quickly their children are learning these words and retaining them. Thumbs up Yolanda. I love it.
Carmen Murray, NE teacher, Woodhill School
The great advantage of Early Words for me is that it got my pupils looking at words. It taught them to look properly at the black squiggly lines and this made teaching them to read much faster. I loved the way they felt so successful because within five minutes of the programme, they can read a page of text which is very exciting if you have never been able to do that before. And, the lessons are fun!
Linda Grant, NE teacher, New Lynn School
At our school we have trained wonderful volunteers from our local community to come in daily and run the programme. This has been very successful.
Pam Jacomb, teacher, Lyttleton West School
I have put three of my kids onto the Early Words programme- they all love it and it is working well. I taught one mum to do it with her little girl – she is flying.
Angela Bowers, NE teacher, Tikipunga Primary
One of our Teacher Aides has been working with some of our low kids and is just raving about the difference it has made. Thanks again for all the enthusiasm and wonderful well researched tried and tested and it works programmes both with Early Words and Phonics. Our Junior staff are totally captivated!
Anne Morriss, DP, Katikati School
This is a complete package with detailed instructions, comprehensive activities, and regular assessment as well as a DVD that shows how the lessons are taught. As the lesson only takes five minutes each day, it means that a number of children can be taught Early Words very inexpensively.
Chuck Marriott, Resource Teacher: Literacy, Kaiapoi/Rangiora Cluster, Canterbury
I have used the Early Words Programme from New Entrant students to Year 4 for a few years now & swear on it !!! It is an incredibly well thought out programme. It is short, fun and full of impact with outstanding results for students. With 1-1 pointing, reading, sweeping to the left, writing the target word clearly AND reading the sentence from day 1… how many of us can truly say we've ever achieved that in five minutes ??? At a glance, students are able to make meaning from cues. Due to simplicity and repetition, students are able to re-read and continue writing at home.
MY MOST PRECIOUS MEMORY is of an 8 year old boy, whom couldn't retain information in reading or writing. After 3 days of using this programme, he was hooked !!! After 8 days, his family were commenting on his growth. After 1 week he chose to sit at the front of the mat – hungry to learn. After 3 weeks he was sourcing words from memory and writing basic sentences. After 5 weeks he recognized his first word on the whiteboard with no prompting at all. What does that tell you? Try it!
Jayne Bowen, Y0/5 Teacher/Maori Resource Provider – Te Ao Maori, Christchurch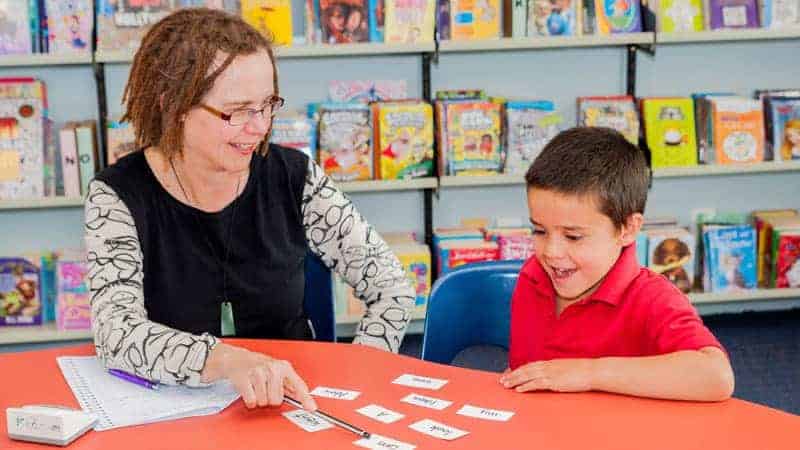 How quick is progress in Early Words?
Children vary in the rate at which they learn to read a new word. One learner may know it permanently within a minute or two of learning it and some will require repeated revision over a period of days or even weeks. Every learner is different. For children who find it hard to remember, increase the number of opportunities to revise.
Who needs Early Words?
Anyone at the beginning stage of learning to read may benefit from Early Words. Both children from four and a half years of age and adults have used the programme successfully to launch into literacy. Typical Early Words users are Junior School children, such as New Entrants, to give them a head start into literacy. Other users include low progress readers, learners with special needs and readers who can read the words but not fluently. Early Words has also been successfully taught by parents to many four and a half year olds prior to school entry to prepare them for reading success. Early Words can be particularly valuable for learners who are learning English as an additional language, whether as a child or an adult, because of the simple repetitive sentence structures and step by step progression.
What is different about Early Words?
Early Words combines teaching for accuracy and fluency. It is not enough that children can read the high frequency words. They must be able to read them easily and effortlessly. Children who pause to remember these basic words when they are reading read in a stilted fashion, impeding their comprehension and enjoyment of the story.
Early Words builds the fluency learning into the teaching of each word so that, as the children learn the new words, they also learn how to read them quickly as well as correctly.
Early Words also allows children to learn the words at both word and sentence level. Children see the word in isolation and then in text, so that they quickly see the usefulness of learning the words. After one lesson in the programme, a child can read a whole page of text. This is something very special for children who have never been able to read a page before and now suddenly can do so.
What is the first word a child should be able to read?
Their own name. A child can recognise their own name from two years of age if they are shown it enough and told what it is. If your child cannot read their own name, ensure you have it written in many useful places, such as their lunchbox, coat hook, and on their clothes and toys. Point to the word when you are using these items and tell them what it says. Ask them to point to it and read it after you. Do this regularly.
What is the best way to teach the high frequency words?
The word is taught firstly in isolation (out of text) as a visual pattern to be memorised. Then it is taught in a sentence. In this way the learner meets the word at both word and sentence/text level.
What is the order of words in Early Words?
The words do not follow other published word lists. Rather, they have been chosen in order of usefulness (i.e. which words are the most useful to teach first so that children can use them straight away in their reading).
Some useful words are further on in the programme than is ideal. This is because, in order to use these words in sentences, other words need to be known first.