Reading Discovery Club
Reading Discovery Club is a 30 minute daily small group early literacy programme. It aims to give a boost to children needing extra support with their basic literacy skills and help them get underway with reading and writing.
Our Reading Discovery Club training provides explicit training in how to effectively deliver the programme in school. It is suitable for class teachers and teacher aides who want to teach structured literacy lessons that include reading and writing, and also Reading Recovery teachers who are running Early Literacy Support in their schools.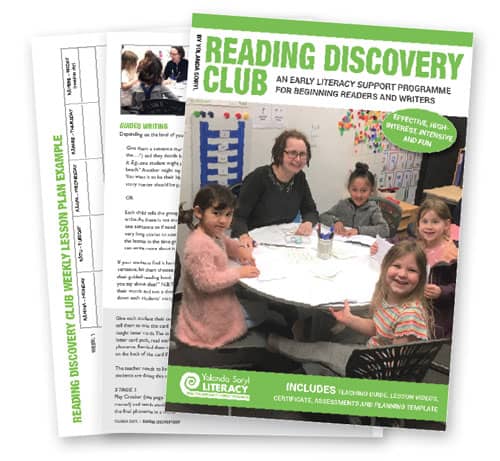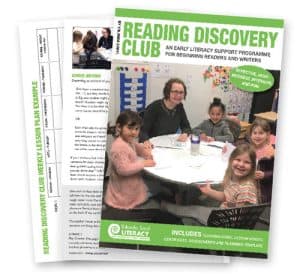 The Reading Discovery Club course covers:

• how to teach the Reading Discovery Club programme
• implementing the programme
To watch Reading Discovery Club lesson videos and for more information about the programme, click here.
This training course is offered as a live webinar (3 hours) or in-person (2 hours).
Price includes GST.
Who might attend the Reading Discovery Club training?

– experienced teachers and teacher aides
– Reading Recovery teachers who run Early Literacy Support
Please note that Reading Discovery Club relies on:
– the students in the group being at similar literacy levels
– the person delivering Reading Discovery Club has prior experience in teaching literacy to early readers and writers
We are proud to say all of our courses are:
• full of practical tips and activities you can use immediately
• thought provoking, engaging and often entertaining
• relevant to the modern classroom
• delivered by Yolanda Soryl
• professional, efficient and focused
• highly praised by fellow teachers
Any questions? Please see our ABOUT and FAQ pages for more information but if your question is not answered there, please contact us.
Special group discounts!
Bring a group and save!
Book 6 teachers, pay for 5! (Save $70)
Book 12 teachers, pay for 10! (Save $140)
N.B. All discounts must be claimed at the time of booking.
Upcoming courses
Important information
Early registration is essential
 Our courses usually fills rapidly so we suggest booking quickly to secure a place.
Last-minute bookings
Yes, we can sometimes accept last-minute registrations so please email our Course Administrator for details.
Webinar details
On registration, you will be emailed instructions on how to attend the webinar and a handout to print out for undertaking the course exercises.
Course participants
1) If a participant is unable to attend, we encourage sending a replacement. To be entitled to a full refund, we must receive written notification no less than 7 days of the course.
2) If a participant withdrawals within 7 days of the course, they will not be eligible for a refund unless there are exceptional circumstances. In these cases, we may accept a full or partial refund.
3) If a registered participant fails to attend a course, nor gives any prior notification, they will not be eligible for any refund.
For withdrawals or changes, please contact [email protected]. Enrolment in a course constitutes acceptance of our terms, conditions and policies.
Organisers
While course cancellations are rare, we guarantee a full refund on all courses. Refunds would be made within 14 days unless you request to transfer the funds towards a future course.
Unless there are extraordinary circumstances beyond our control, course cancellations would be notified by email and/or telephone to the person responsible for the booking no less than 21 days prior to the course date.
1) Payments not made at the time of booking are required to be paid by the 20th of the month following date of invoice.
2) If paying by direct credit, please use the invoice number as a reference when making payment.
3) If you require an extension to pay please contact us immediately as overdue accounts are passed on to our debt collection agency with all collection costs being added to the account.
If you have an account inquiry, please email Carolyn Brown
Special group deals!
We offer special group concessions to help reduce the costs for schools and their teachers. Check these out!
GET 1 FREE!
Book 5 teachers & bring the 6th for free!
(must be from the same school)
GET 2 FREE!
Book 10 teachers & bring two more, free!

(must be from the same school)
SAVE $10!
When booking 2 courses on the same day!
(Offer applies for each teacher)