Early Phonics (Learning the alphabet)
Early Phonics (Learning the alphabet) is a course for ECE and Primary teachers and assistants running transition to school programmes or who want in-depth training on how to teach children the sounds and letters of the alphabet. Parents welcome.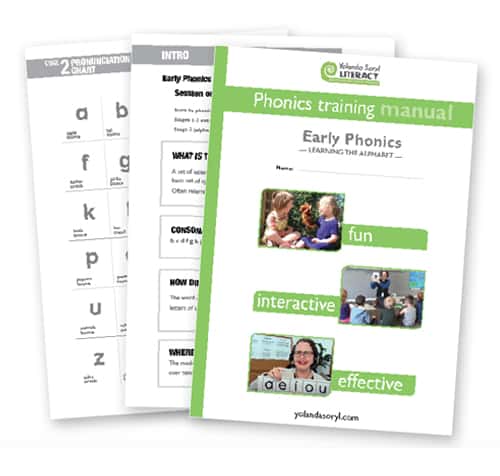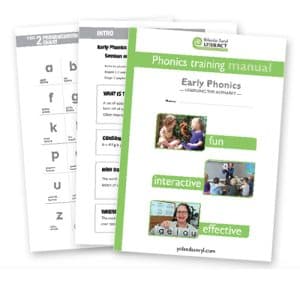 The 3.5 hour Early Phonics training course covers:
• basic phonics theory
• how to teach the alphabet sounds and letters
• learning options for students at different levels of readiness
• lesson planning and practice
• links to Te Whāriki
• modelled lessons and video clips
• teaching tips and assessment
• where to find resources
• Q&A … and more!
Includes the Early Phonics training manual with full lesson plans, assessments and QR codes for videoed lessons. Price includes GST.
Who might attend the Early Phonics training?
– E.C.E. teachers and childcare assistants
– Primary teachers and teacher aides (New Entrant educators and those teaching older students who still need this knowledge)
– Parents (on the understanding that this course is aimed at educators)
Training course outline
Session 1
Background to the alphabet, what is phonics, what children need to have in place to be ready to learn the alphabet, links to Te Whāriki, an overview of the 7 Stages of Phonics, learning how to hear the first sound in a word, learning the letters, Q&A.
Session 2
Learning the letters (cont), learning how to write the letters, how to teach revision, lesson timings, how to correctly make the sounds, handwriting, assessment, Q&A. resources.
We are proud to say all of our courses are:
• full of practical tips and activities you can use immediately
• thought provoking, engaging and often entertaining
• relevant to the modern classroom
• delivered by Yolanda Soryl
• professional, efficient and focused
• highly praised by fellow teachers
Any questions? Please see our ABOUT and FAQ pages for more information but if your question is not answered there, please contact us.
Upcoming courses
This course is run either as a live webinar or an in person course.
Webinar – either a 3.5 hour session or two 1 1/2 hour sessions
In-person course – (3.5 hours). In-service training also available.
Special group discounts!
Bring a group and save!
Book 6 teachers, pay for 5! (Save $100)
Book 12 teachers, pay for 10! (Save $200)
N.B. All discounts must be claimed at the time of booking.
"Every teacher should do your course! Very rarely you go to a course and are interested and awake for a whole 2 hours, then come away inspired, armed and ready to put it all into practice."
"Brilliant: the best PD I've been on. I liked the speed of the training. It was fast, valuable: fantastic!"
"One of the few courses that provides you with everything you need to go off and teach right away: lesson plans, assessments, all the info from planning to teaching and assessing."
"It's great to have a programme that is tried and true, based on sound research and developed for New Zealand schools. I can implement this in my classroom tomorrow without having to buy expensive resources."
"Thank you for your excellent course at Halswell. I've received lots of feedback from other staff about how much they got out of it and how well you presented it. It was great. Thanks again."
"As a New Entrant teacher I absolutely loved the day as it was completely relevant to me and the needs of the students in my class."
"The best course I have ever done. Having a degree in linguistics I can resolutely say that this has helped me more in my teaching of phonics than a BA and B Ed combined! Thank you."
"Your training exceeded my expectations. The study of phonics was part of my teacher training in England (some years ago!) but this course has given me new ideas and has made more sense than anything I have been taught before. I can see how the teaching strategies fit into the bigger picture of literacy. Thank you for an inspirational course."
"We all thoroughly enjoyed the course and the teachers wished they had done it years ago. It is always refreshing to have your enthusiastic, professional and slick delivery – fantastic! Everyone is inspired!"
"Thank you so much for your course yesterday. It was absolutely perfect. You are a great communicator and you kept everyone engaged and in awe, all day. Your course is superbly supported by resources and you so willingly and generously share your ideas, experiences and knowledge."
"Thanks for the course - my mind has been buzzing all day with phonic thoughts, and I began implementing games into the session I had with New Entrants on pre-school visits today - very successful. In 25 years of educating in wildly diverse jobs and situations I think that yesterdays course has to be the best I've been on."
Important information
Early registration is essential
Our Early Phonics course usually fills rapidly so we suggest booking quickly to secure a place.
Last-minute bookings
Yes, we can sometimes accept last-minute registrations so please email our Course Administrator for details.
Location and venue details
Venue, location and parking details are included in the confirmation email. If you have misplaced your email, please click here.
Course participants
1) If a participant is unable to attend, we encourage sending a replacement. To be entitled to a full refund, we must receive written notification no less than 7 days of the course.
2) If a participant withdrawals within 7 days of the course, they will not be eligible for a refund unless there are exceptional circumstances. In these cases, we may accept a full or partial refund.
3) If a registered participant fails to attend a course, nor gives any prior notification, they will not be eligible for any refund.
For withdrawals or changes, please contact [email protected]. Enrolment in a course constitutes acceptance of our terms, conditions and policies.
Organisers
While course cancellations are rare, we guarantee a full refund on all courses. Refunds would be made within 14 days unless you request to transfer the funds towards a future course.
Unless there are extraordinary circumstances beyond our control, course cancellations would be notified by email and/or telephone to the person responsible for the booking no less than 21 days prior to the course date.
We will provide vegan and gluten free snacks for the tea break and/or to nibble on during the course. Teas and coffee will also be provided with a choice of plant milks in most locations. You are welcome to bring your own cows milk.
Food allergies/intolerances?
For those with food allergies or intolerances, please note that our refreshments are always meat, dairy, egg, gluten, nut, onion and garlic free.
Full day courses – no lunch provided
Please note that lunch is not provided and due to the short 30 minute lunch break, we recommend bringing your own lunch if attending a full day course. You are of course welcome to pop out at lunchtime to buy it if you prefer.
1) Payments not made at the time of booking are required to be paid by the 20th of the month following date of invoice.
2) If paying by direct credit, please use the invoice number as a reference when making payment.
3) If you require an extension to pay please contact us immediately as overdue accounts are passed on to our debt collection agency with all collection costs being added to the account.
If you have an account inquiry, please email Carolyn Brown
Special group deals!
We offer special group concessions to help reduce the costs for schools and their teachers. Check these out!
GET 1 FREE!
Book 5 teachers & bring the 6th for free!
(must be from the same school)
GET 2 FREE!
Book 10 teachers & bring two more, free!

(must be from the same school)
SAVE $10!
When booking 2 courses on the same day!
(Offer applies for each teacher)