Developing Phonological Awareness
Our Developing Phonological Awareness (DPA) course is aimed at teachers working with children aged 0-5 or older children who require additional support at the earliest level of literacy development.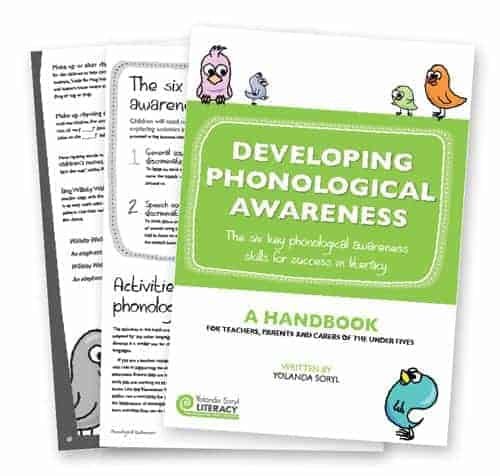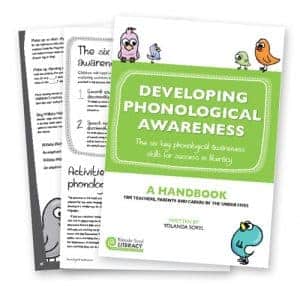 The 3.5 hour training course covers:
• basic theory
• an overview of the seven stages of phonics
• in depth coverage of Stage 1
• lesson plans
• assessment
• resources
Includes the 44-page Developing Phonological Awareness Handbook. Refreshments are included. Price includes GST.
We are proud to say all of our courses are:
full of practical tips and activities you can use immediately
thought provoking, engaging and often entertaining
relevant to the modern classroom
delivered by one of New Zealand's leading qualified teacher trainers
professional, efficient and focused
highly praised by fellow teachers
Special group discounts!
Bring a group and save!
Book 6 teachers, pay for 5!  (Save $100)
Book 12 teachers, pay for 10! (Save $200)

N.B. All discounts must be claimed at the time of booking.
Sorry, there are no scheduled DPA courses at this time.
If you subscribe to our course notification mailing list we will notify you when we confirm courses in your area.
"We could have had a whole day of the training as it was so inspiring. Yolanda presented the course with so much passion. The training reiterated what's already happening in our kindergarten, but now we have the knowledge to put it in the right sequence and give extra activities and ideas to add to our daily programme."
"One of the best workshops I have been to in 25 years!"
"The training was very affirming. To learn the value and meaning of what you are already doing was fabulous. Also, I learnt new information and practical strategies to enhance further phonics teachings in ECE. It was awesome. I could have stayed the whole day! I can't wait to do more of this in our kindergarten."
"The training was excellent, I loved it. I can't wait to put my knowledge into action."
Important information
Early registration is essential
Please do not leave registering until the last minute as we sometimes have to reschedule or even cancel a course if registration numbers are low.
Last-minute bookings
Yes, we can sometimes accept last-minute registrations so please email our Course Administrator for details.
Location and venue details
Venue, location and parking details are included in the confirmation email. If you have misplaced your email, please click here.
Course participants
1) If a participant is unable to attend, we encourage sending a replacement. To be entitled to a full refund, we must receive written notification no less than 7 days of the course.
2) If a participant withdrawals within 7 days of the course, they will not be eligible for a refund unless there are exceptional circumstances. In these cases, we may accept a full or partial refund.
3) If a registered participant fails to attend a course, nor gives any prior notification, they will not be eligible for any refund.
For withdrawals or changes, please contact courses@yolandasoryl.com. Enrolment in a course constitutes acceptance of our terms, conditions and policies.
Organisers
While course cancellations are rare, we guarantee a full refund on all courses. Refunds would be made within 14 days unless you request to transfer the funds towards a future course.
Unless there are extraordinary circumstances beyond our control, course cancellations would be notified by email and/or telephone to the person responsible for the booking no less than 21 days prior to the course date.
Each course participant receives a handy vegan snack-pack suited for a light morning/afternoon tea refreshment and/or to nibble on during the course.
Food allergies?
For those with food allergies, please note of our snack-packs are always meat, dairy, egg, gluten, nut, onion and garlic free! Please inform us at the time of booking if you have any other allergies or food intolerances.
Full day courses – no lunch provided
Please note that lunch is not provided and due to the short lunch break, we recommend bringing a cut lunch if attending a full day course.
1) Payments not made at the time of booking are required to be paid by the 20th of the month following date of invoice.
2) If paying by cheque or direct debit, please use the invoice number as a reference when making payment.
3) If you require an extension to pay please contact us immediately as overdue accounts are passed on to our debt collection agency with all collection costs being added to the account.
If you have an account inquiry, please email Carolyn Brown.
Special group deals!
We offer special group concessions to help reduce the costs for schools and their teachers. Check these out!
GET 1 FREE!
Book 5 teachers & bring the 6th for free!
(must be from the same school)
GET 2 FREE!
Book 10 teachers & bring two more, free!

(must be from the same school)
SAVE $10!
When booking 2 courses on the same day!
(Offer applies for each teacher)
Subscribe for course information
Early registration essential!
Please do not leave registering until the last minute as we sometimes have to reschedule or even cancel a course if registration numbers are low.