Developing Phonological Awareness
Our Developing Phonological Awareness (DPA) course is aimed at teachers working with children aged 0-5 or older children who require additional support at the earliest level of literacy development.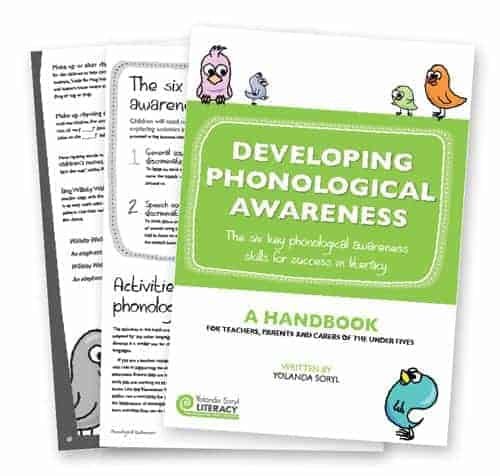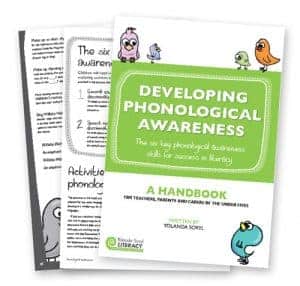 The training covers:
• basic theory
• an overview of the seven stages of phonics
• in depth coverage of Stage 1 (phonological awareness)
• practical fun learning activities that develop phonological awareness
• assessment
• resources
Includes the 44-page Developing Phonological Awareness Handbook. Price includes GST.
We are proud to say all of our courses are:
full of practical tips and activities you can use immediately
thought provoking, engaging and often entertaining
relevant to the modern classroom
delivered by Yolanda Soryl
professional, efficient and focused
highly praised by fellow teachers
Any questions? Please see our ABOUT and FAQ pages for more information but if your question is not answered there, please contact us.
Special group discounts!
Bring a group and save!
Book 6 teachers, pay for 5!  (Save $100)
Book 12 teachers, pay for 10! (Save $200)

N.B. All discounts must be claimed at the time of booking.
Available courses
We offer 3 ways to undertake this course
1) Live webinar (2x 2-hour sessions) $100
2) On Demand training (3 hours) $100
3) In-service (3.5 hours) – visit our in-service training page
Book our On Demand training course and enjoy learning at your own pace over 30 days.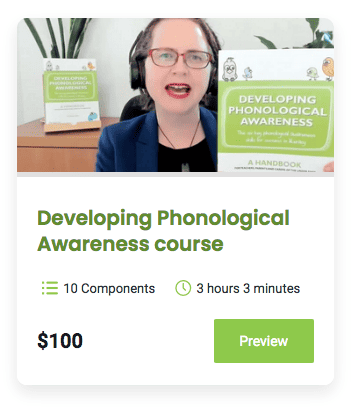 "We could have had a whole day of the training as it was so inspiring. Yolanda presented the course with so much passion. The training reiterated what's already happening in our kindergarten, but now we have the knowledge to put it in the right sequence and give extra activities and ideas to add to our daily programme."
"One of the best workshops I have been to in 25 years!"
"The training was very affirming. To learn the value and meaning of what you are already doing was fabulous. Also, I learnt new information and practical strategies to enhance further phonics teachings in ECE. It was awesome. I could have stayed the whole day! I can't wait to do more of this in our kindergarten."
"The training was excellent, I loved it. I can't wait to put my knowledge into action."