Early Words
Our Early Words training course is for anyone working with children at the very beginning stages of reading and using the Early Words programme. Parents and non-teachers are always welcome. The course price includes a training handout. Participants may also choose to purchase the Early Words manual as this is beneficial but not essential for the course.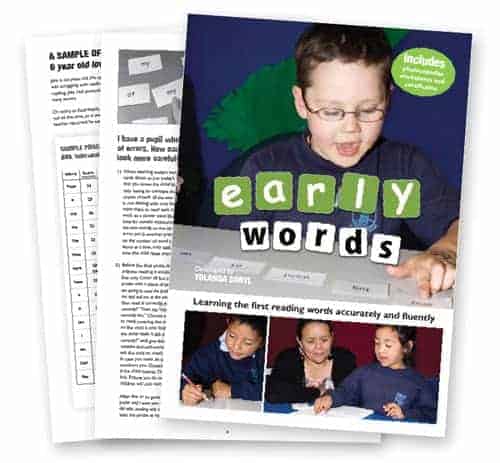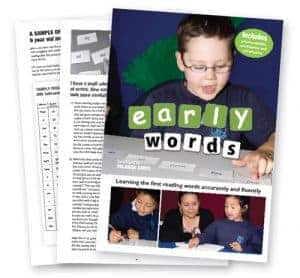 The 2 hour training course covers:
• theory about learning sight words
• how to teach the Early Words programme
• implementing the programme
Refreshments are supplied. Price includes GST.
Cost: $70 pp
Special group discount offers!
Bring a group and save!
Book 6 teachers, pay for 5! (Save $70)
Book 12 teachers, pay for 10! (Save $140)
N.B. All discounts must be claimed at the time of booking.
Exclusive offer for course attendees
To save $5 per copy, you must order no later than two weeks prior to the course you're attending. The manual will be delivered to you in time to use during your course.
28 placements available

23 placements available

30 placements available

29 placements available

48 placements available

46 placements available

20 placements available

50 placements available
We are proud to say all of our courses are:
• full of practical tips and activities you can use immediately
• thought provoking, engaging and often entertaining
• relevant to the modern classroom
• delivered by one of New Zealand's leading qualified teacher trainers
• professional, efficient and focused
• highly praised by fellow teachers
"Earlier in the term I began using your Early Words programme with one of our Year 1 children, who had no known words when tested at the beginning of this year. She was making very, very slow progress. An extremely timid, quiet Pacifica girl, who a few months down the track has blossomed into a confident and extremely proud young lady, who could give any adult a run for their money when it comes to speed reading all 48 words in Early Words. What a difference your programme has made to her whole being - on so many levels!"
"I am a teacher of children with delayed language, and have found the Early Words system invaluable. It provides a systematic, straight-forward method of learning essential words with lots of repetition in different forms. My pupils who participate in the programme love the feeling of success in reading they get. Their smiles say it all!"
"I am a big fan of the Early Words programme and have found it to be very successful in our school."
"We are finding the programme very effective especially for the children that are struggling in a normal reading programme. I am doing an intense literacy morning based around the early words and am seeing great results."
Important information
Early registration is essential
Please do not leave registering until the last minute as we sometimes have to reschedule or even cancel a course if registration numbers are low.
Last-minute bookings
Yes, we can sometimes accept last-minute registrations so please email our Course Administrator for details.
Location and venue details
Venue, location and parking details are included in the confirmation email. If you have misplaced your email, please click here.
Course participants
1) If a participant is unable to attend, we encourage sending a replacement. To be entitled to a full refund, we must receive written notification no less than 7 days of the course.
2) If a participant withdrawals within 7 days of the course, they will not be eligible for a refund unless there are exceptional circumstances. In these cases, we may accept a full or partial refund.
3) If a registered participant fails to attend a course, nor gives any prior notification, they will not be eligible for any refund.
For withdrawals or changes, please contact courses@yolandasoryl.com. Enrolment in a course constitutes acceptance of our terms, conditions and policies.
Organisers
While course cancellations are rare, we guarantee a full refund on all courses. Refunds would be made within 14 days unless you request to transfer the funds towards a future course.
Unless there are extraordinary circumstances beyond our control, course cancellations would be notified by email and/or telephone to the person responsible for the booking no less than 21 days prior to the course date.
We will provide vegan and gluten free snacks for afternoon tea on arrival and/or to nibble on during the course. Teas and coffee will also be provided with a choice of plant milks in most locations. You are welcome to bring your own cows milk.
Food allergies/intolerances?
For those with food allergies or intolerances, please note that our refreshments are always meat, dairy, egg, gluten, nut, onion and garlic free.
1) Payments not made at the time of booking are required to be paid by the 20th of the month following date of invoice.
2) If paying by cheque or direct debit, please use the invoice number as a reference when making payment.
3) If you require an extension to pay please contact us immediately as overdue accounts are passed on to our debt collection agency with all collection costs being added to the account.
If you have an account inquiry, please email Carolyn Brown.
Special group deals!
We offer special group concessions to help reduce the costs for schools and their teachers. Check these out!
GET 1 FREE!
Book 5 teachers & bring the 6th for free!
(must be from the same school)
GET 2 FREE!
Book 10 teachers & bring two more, free!

(must be from the same school)
SAVE $15!
When ordering both EW course manuals!
(offer applies to course attendees)
Subscribe for course information
Early registration essential!
Please do not leave registering until the last minute as we sometimes have to reschedule or even cancel a course if registration numbers are low.