Early Words
Our Early Words training course is for anyone working with children at the very beginning stages of reading and using the Early Words programme to teach the first reading words.
Parents and non-teachers are always welcome.
The training covers:
• theory about learning sight words
• how to teach the Early Words programme
• implementing the programme
Price includes GST.
We are proud to say all of our courses are:
full of practical tips and activities you can use immediately
thought provoking, engaging and often entertaining
relevant to the modern classroom
delivered by Yolanda Soryl
professional, efficient and focused
highly praised by fellow teachers
Any questions? Please see our ABOUT and FAQ pages for more information but if your question is not answered there, please contact us.
The Early Words Manual
You don't need the Early Words manual to do the course, but you will need it to implement the programme afterwards. Course participants are offered a discount (see below) if they buy the manual.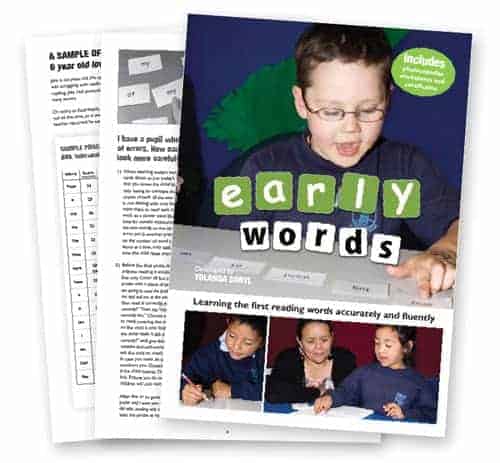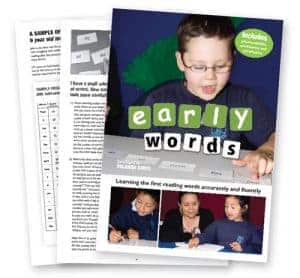 The Early Words manual has all you need to deliver the programme with:
• full instructions
• QR codes for videoed lessons
• photocopiable activity sheets
• certificates
• progress charts
• assessments
"Earlier in the term I began using your Early Words programme with one of our Year 1 children, who had no known words when tested at the beginning of this year. She was making very, very slow progress. An extremely timid, quiet Pacifica girl, who a few months down the track has blossomed into a confident and extremely proud young lady, who could give any adult a run for their money when it comes to speed reading all 48 words in Early Words. What a difference your programme has made to her whole being - on so many levels!"
"I am a teacher of children with delayed language, and have found the Early Words system invaluable. It provides a systematic, straight-forward method of learning essential words with lots of repetition in different forms. My pupils who participate in the programme love the feeling of success in reading they get. Their smiles say it all!"
"I am a big fan of the Early Words programme and have found it to be very successful in our school."
"We are finding the programme very effective especially for the children that are struggling in a normal reading programme. I am doing an intense literacy morning based around the early words and am seeing great results."
Available courses
We offer 3 ways to undertake this course
1) Live webinar (2x 2-hour sessions) $75
2) On Demand training (2 hours 40 minutes) $75
3) In-service training (2 hours) – visit our in-service training page
Book our On Demand training course and enjoy learning at your own pace over 30 days.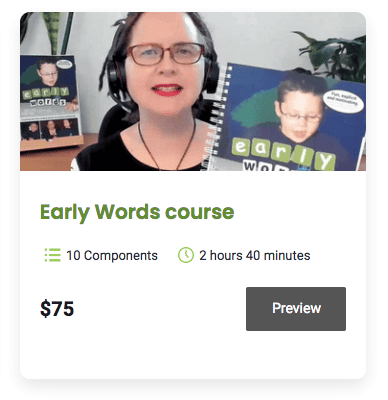 Special group discount offers!
Bring a group and save!
Book 6 teachers, pay for 5! (Save $75)
Book 12 teachers, pay for 10! (Save $150)
N.B. All discounts must be claimed at the time of booking.
Exclusive offer for course attendees

Save $5 per copy by ordering the Early Words books at a special course attendee only discount price. This will be offered at the time of your booking as well as after your purchase in your confirmation.