Description
BUZZ
The BUZZ programme is a 5 minute daily one-on-one motivating and success-oriented programme for students who require more practice and extra opportunities for over learning in phonics at stages 1-4. Covers phonological awareness, alphabet, phonemic awareness, blending and segmentation with CVC words. Students love climbing the levels as they learn and complete the phonics activities to reach the end goal of hitting the buzzer.
By the end of BUZZ, students will be able to read and write CVC words and make recognisable attempts at spelling other words by recording at least three dominant phonemes in a word. 138 pages.
• Includes 84 black and white photocopiable activity sheets and 14 charts, certificates and assessment sheets.
EARLY WORDS 2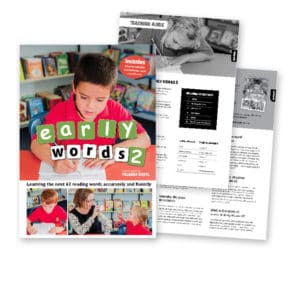 This manual covers the first 48 high frequency words. These words have been selected as the words that have the most pay-off for early readers i.e. the words that are the most useful to learn first. Once children know these words, they are well on their way in developing the skills needed to learn words and will more quickly acquire other words when they are reading. 278 pages.
• Includes black and white photocopiable worksheets and certificates.
• Learn the next 63 high frequency words.