For registered attendees only
Advanced Phonics course
Course outline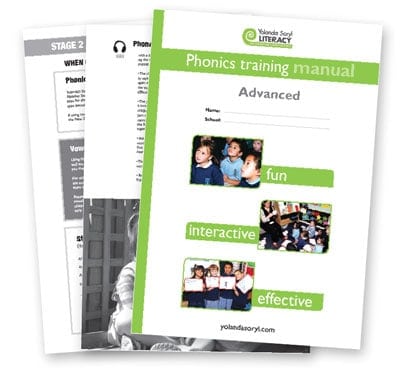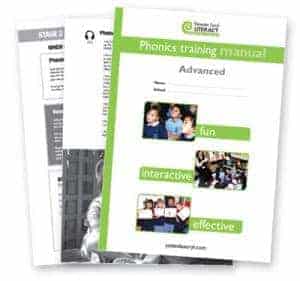 The 2 hour training course covers:
• supplementary hearing activities
• how to transfer phonics to reading and writing
• time for questions and feedback
• 2 new stages to bridge Stages 4 & 5
• how to maximise phonics teaching
Includes the 36-page Advanced Phonics training manual. Refreshments are supplied. Prices includes GST.
Course instructor
This course is taken by Yolanda Soryl. For more information about Yolanda, you can read her biography here.
Special offer
What you need to know
ARRIVAL
Please be on time and arrive no later than 5 minutes earlier to sign in.
WHAT TO BRING
Pen and paper
Timer (a stop watch on your phone is fine)
Advanced Training manual
CHANGE OF PLANS AND UNABLE TO ATTEND?
Please notify us as soon as possible and see our cancellation policy regarding course withdrawals and refunds.
Refreshments
Each course participant receives a handy vegan snack-pack suited for a light morning/afternoon tea refreshment and/or to nibble on during the course.
Food allergies?
For those with food allergies, please note of our snack-packs are always meat, dairy, egg, gluten, nut, onion and garlic free! Please inform us at the time of booking if you have any other allergies or food intolerances.
Full day courses – no lunch provided
Please note that lunch is not provided and due to the short lunch break, we recommend bringing a cut lunch if attending a full day course.
Cancellations
Course participants
1) If a participant is unable to attend, we encourage sending a replacement. To be entitled to a full refund, we must receive written notification no less than 7 days of the course.
2) If a participant withdrawals within 7 days of the course, they will not be eligible for a refund unless there are exceptional circumstances. In these cases, we may accept a full or partial refund.
3) If a registered participant fails to attend a course, nor gives any prior notification, they will not be eligible for any refund.
For withdrawals or changes, please contact [email protected]. Enrolment in a course constitutes acceptance of our terms, conditions and policies.
Organisers
While course cancellations are rare, we guarantee a full refund on all courses. Refunds would be made within 14 days unless you request to transfer the funds towards a future course.
Unless there are extraordinary circumstances beyond our control, course cancellations would be notified by email and/or telephone to the person responsible for the booking no less than 21 days prior to the course date.
Payment Terms
1) Payments not made at the time of booking are required to be paid by the 20th of the month following date of invoice.
2) If paying by cheque or direct debit, please use the invoice number as a reference when making payment.
3) If you require an extension to pay please contact us immediately as overdue accounts are passed on to our debt collection agency with all collection costs being added to the account.
If you have an account inquiry, please email Nerida Henderson.
Teacher Q & A forums
[dwqa-list-questions category="advanced-phonics" number="5″]
[dwqa-submit-question-form]